ULTRAVIOLET LIGHTS
---
Click the stock number to add an item to your shopping cart!
If your system does not support this feature, click standard order form below.
---
UV LAMPS
Ultraviolet lamps by RAYTECK are the best money can buy! These portable lamps boast 33% more UV output than the competion's models. Raytech UV lamps are available in shortwave, longwave, and combination lamps. These handy pocket sized lamps require 4 AA batteries, not included. Select the one that's right for you!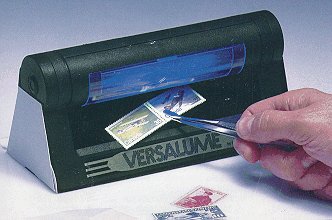 The longwave lamp is used for detecting imperfections not readily seen by the naked eye: repaired tears, added margins, filled in thin tears, and more. Also helpful in detecting different paper types.
Click here to order # 00260......$24.95.
---
The shortwave lamp is used for detecting phosphorous tagging on stamps.
Click here to order # 00261......$36.95.
---
The combination lamp has both longwave and shortwave capabilities.
Click here to order # 00262......$56.95.
---
Copyright © 1997, 1998 DeKalb Stamp & Coin Co., Inc. DBA Northlake Stamp & Coin, Atlanta, Georgia, USA.