WATERMARK FLUID
---
Click the stock number to add an item to your shopping cart!
If your system does not support this feature, click standard order form below.
---
Watermark Fluid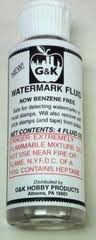 Our philatelic watermark fluid is safe for all photogravure stamps.
Order #00909........$13.95 per bottle.
---
Watermark Fluid Tray
#00910........$3.99
---
Copyright © 1997, 1998, 1999 - 2012 DeKalb Stamp & Coin Co., Inc. DBA Northlake Stamp & Coin, Atlanta, Georgia, USA.