UNITED STATES COMMEMORATIVE STAMPS
| | | |
| --- | --- | --- |
| | Click Arrows to Browse our Color Catalog | |
1936 Commemorative Issues
Scott # 776

| | |
| --- | --- |
| Mint, F/VF,NH | $0.20 |
| Used, F/VF | $0.15 |
| Plate Block | $1.50 |

Scott # 777

| | |
| --- | --- |
| Mint, F/VF,NH | $0.20 |
| Used, F/VF | $0.15 |
| Plate Block | $1.40 |
---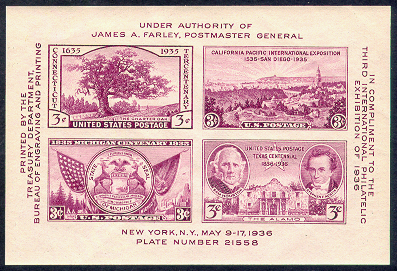 Scott # 778
| | |
| --- | --- |
| Mint, F/VF,NH | $2.65 |
| Used, F/VF | $2.50 |
---
# 776, March 2, 1936, Texas Centennial Issue: Commemorating 100 years of Texas Independence. Pictured are Sam Houston, Stephen Austin, and The Alamo.
# 777, May 4, 1936, Rhode Island Tercentenary Issue: Commemorating the 300th anniversary of the settlement of Rhode Island. Depicted is a statue of Roger Williams.
# 778, May 9, 1936, Third International Philatelic Exhibition Issue: Released in complement to the Third International Philatelic Exhibition. This Souvenir Sheet of 4 stamps was issued by the Treasury Department Bureau of Engraving and Printing under the authority of James Farley, Postmaster General at the time. The sheets were issued imperforate, with gum. Pictured are stamps number 772, 773, 775, and 776.
---
---
Copyright © 1997, 1998, 1999 DeKalb Stamp & Coin Co., Inc. DBA Northlake Stamp & Coin, Atlanta, Georgia, USA.