1860 US #38 Thirty Cent Orange Franklin
Click the stock number below to add an item to your shopping cart!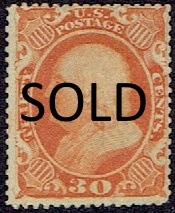 United States Scott #38
Showgard Mount Size E
Condition: Mint Fine/ Very Fine Centering. No Gum 13270 $675.00
You will receive the actual stamp pictured
Click here for other choices of Scott #38 (mint, used, etc..)
---
Copyright © 1997-2016 DeKalb Stamp & Coin Co., Inc. DBA Northlake Stamp & Coin, Atlanta, Georgia, USA.