GRADING STANDARDS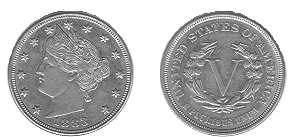 Liberty Head or "V" Nickel
GOOD:
OBVERSE: Entire design well worn with very little detail remaining. Stars and date are weak but visible.
REVERSE: Wreath is worn flat and not completely outlined. Legend and mottos are worn nearly smooth.
VERY GOOD:
OBVERSE: Bottom edge of coronet and most hair details are worn smooth. At least three letters in LIBERTY are clear. Rim is complete.
REVERSE: Wreath shows only bold outline. Some letters in motto are very weak. Rim is complete.
FINE:
OBVERSE: Some details show in curls and hair at top of head. All letter of LIBERTY are visible.
REVERSE: Some details visible in wreath. Letter in the motto are worn but clear.
VERY FINE:
OBVERSE: Over half the details still show in hair and curls. Head worn but bold. Every letter on coronet is plainly visible.
REVERSE: Leaves are worn but some of the ribs are visible. Most details in the wreath are clear unless weakly struck.
EXTREMELY FINE:
OBVERSE: Wear shows on hair for forehead to ear, the cheek, and on curls.
REVERSE: High point of wreath are worn, but each line is clearly define. Corn shows some wear.


Grading Standards are set by the American Numismatic Association as outlined in the Official A.N.A. Grading Standards for United States Coins, Fifth Edition, copyright © 1996. This reference book is available for purchase for $13.95. Hyperlink to our Coin Supplies Page for more information.
Copyright © 1997, 1998, 1999 DeKalb Stamp & Coin Co., Inc. DBA Northlake Stamp & Coin, Atlanta, Georgia, USA.