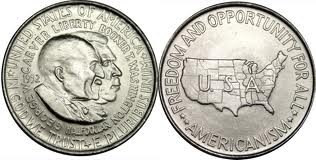 Booker T. Washington and George Washington Carver
United States Silver Half Dollar
The Booker T. Washington / George Washington Carver silver half dollar issued in the early 1950's by the United States government to honor two of our most prominent Black Americans. This coin was designed by Isaac Scott Hathaway and portrays the conjoined bust of Booker T Washington, a lecturer, educator, and principle of Tuskegee Institute who urged training to advance independence and efficiency for his race, and George Washington Carver, an agricultural chemist who worked to improve the economy of the south. He spent part of his life teaching crop improvement, and new uses for soybeans, peanuts, sweet potatoes, and cotton waste.
This coin was struck in 90% pure silver and was accepted for general circulation. On the back of this half dollar are the words "Freedom and Opportunity for all Americanism" encircling the map of the United States.
Circulated XF Condition
Uncirculated Condition
Click here to order # 13874.......price $49.95
Click the stock number to add an item to your shopping cart!
If your system does not support this feature, click standard order form below.

Key to abbreviations used on this page:
UNCIRCULATED : An uncirculated coin with attractive mint luster but noticeable detracting contact marks or minor blemishes.
Extra Fine (XF): Light wear on the design throughout, but all features are sharp and well defined.
---
|| Standard Order Form || Coins ||Coin Supplies || Stamps & Supplies || Home Page ||
Copyright © 1997-2013 DeKalb Stamp & Coin Co., Inc. DBA Northlake Stamp & Coin, Atlanta, Georgia, USA.