Innovation Dollars
Click the stock number to add an item to your shopping cart!
If your system does not support this feature, click standard order form below.
---
2018 Innovation Dollars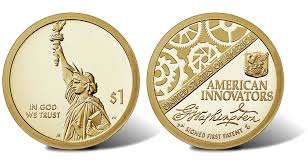 George Washington Signing the First Patent
2018 P ... BU... 00048 ... 2.95
2018 P ... BU... 00049 ... 2.95
---
2019 Innovation Dollars
2020 Innovation Dollars
2021 Innovation Dollars
2022 Innovation Dollars
---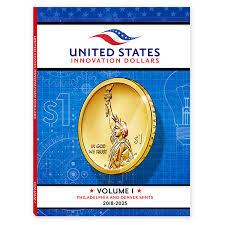 Whitman Innovation Dollar Folder Volume 1 Holds Philadelphia and Denver mints 2018-202502198 $12.99
---
Key to abbreviations used on this page:
All Philadelphia and Denver mint dollars are BU (Brilliant Uncirculated): A strictly uncirculated coin with attractive mint luster but noticeable detracting contact marks or minor blemishes.
All PR (Proof): Dollars are San Francisco mint. Proof refers to a method of manufacture. A Proof Edition coin is stuck at low speed, by highly polished dies, on hand-selected planchets. The result is a very high quality coin that will have a mirror-finished background and frosted features. Proof Edition coins are not intended for circulation; they are produced for expressly for collectors and are sold by the U.S. Mint in sets for a premium above their face value.
P (Philadelphia): The 'P' mint mark is located on the edge of the coin
D (Denver): The 'D' mint mark is located on the edge of the coin
S (San Francisco): The 'S' mint mark is located on the edge of the coin
---
|| Standard Order Form || More Coins || Coin Supplies || Stamps & Supplies || Home Page ||
Copyright © 1997-2021 DeKalb Stamp & Coin Co., Inc. DBA Northlake Stamp & Coin, Atlanta, Georgia, USA.